Greetings and Welcome to our little corner of the knowne worlde… If you have read this far you probably have a heap of questions like: "How do I get started?" or "Where can I learn more?"
Please don't feel overwhelmed by everything here, as there is a whole bunch of people waiting to help you get started! Your first contact would probably be to email either the Hospitaller or the Seneschal of our group (go to the home page for their details). They will be happy to chat to you and organised your first get together with our group.
Are you wondering: what a "Canton" is or what a "Seneschal" does or how many "Regnums" there are in a litre? Don't worry you'll learn this with time and we will be able to explain some of the jargon and terminology we use frequently in the SCA.
A Great Place to Start:                                                                                                           You may want to start with the International SCA's Welcome Site which offers a fantastic overview of the SCA. It covers covering the SCA as a whole, worldwide
This website attempts to "describe something quite all encompassing with enough information to provide an unbiased overview of what we do, covering a large enough cross-section of Society life for someone wanting to find out more to gain a goodly understanding of what is involved to enable them to make informed decisions as to where they may wish to explore next"
If you want to read more have a flick through the online Newcomers Handbook, it gives you wonderful information on the SCA and may even answer some questions in the meantime.
After having a good look through these sites, come back here for further information more specific to our cosy Canton.
We have a Facebook Group called Stowegians. (Click the link!) This group will help you keep up to speed with happenings around Stowe and is also a place where you can ask questions without feeling like a goose. When you request to join the group, you may be asked to tell the administrator who you are. This is to help us cut spam out. The group varies from being a very sociable and busy place, to being quiet, but generally, people are helpful and if they don't know the answer to your question, they will refer you to someone who can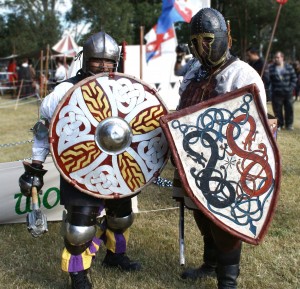 How You Can Get Involved
We welcome you to attend our local meetings and our events. You needn't join the SCA, Inc, to attend and participate (although if you decide to be with us regularly you may wish to join). The only requirement to come to an event is that you make some attempt at pre-1600 costume — and most groups have "loaner" costumes for people who want to come to their first event – Talk to the Hospitaller c\- the Seneschal. The Hospitaller is an officer who's sole duty is to help new members find their way into the SCA. Each SCA participant remembers the day she or he started, and most people are happy to help out a newcomer, not just the Hospitaller.
"I am a newcomer, I don't hold an office and I am not a member, can I come to the Canton Meetings?"
Yes! Please do! We appreciate everybody's input, ideas, offers of help and enthusiasm for keeping the group running smoothly. Please do come along, you will get to have a say, people will get to know you and you might find yourself doing things you never dreamed you would.
Finally, Welcome to Stowe and Welcome to the Current Middle Ages!
Reousources for Newcomers
The Stowe Help Pages have some articles that newcomers may find useful. Some helpful links can be found in our links section.
SCA Welcome Site: http://welcome.sca.org/
Newcomers Handbook 2018: http://hospitaller.lochac.sca.org/newcomer-page/lochac-newcomers-handbook-v1-2018/
Chosing a name:  https://www.s-gabriel.org/names/dietmar/hints.html